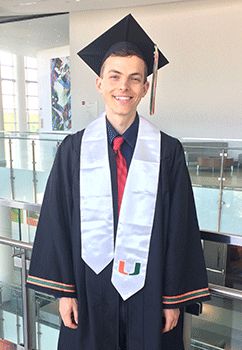 Major: Instrumental Performance
Instrument: Trombone
Stamps Ensemble Name: Stamps Brass Quintet
Profile:
Christopher Jones, trombone, majored in Instrumental Performance at the Frost School of Music where he was a Stamps Distinguished Ensemble Scholar and a member of the Stamps Brass Quintet, Class of 2016. He is currently pursuing a Master's degree in Composition from Wichita State University, where he is studying with Aleksander Sternfeld-Dunn.
As a sixth grader in Indianapolis, Indiana, Christopher Jones discovered his passion for writing music when a friend introduced him to a children's music game, Mario Paint Composer.  Although he has since moved onto more sophisticated methods of composing, he still displays the same childhood exuberance when it comes to exploring music. Chris enjoys a whole spectrum of music, from classical repertoire to 8-bit video game tunes. He strives to share his passion and enjoyment of music with others through his compositions.
As a trombonist, Chris has performed at the 2016 and 2014 International Trombone Festivals as well as the Sewanee Summer Music Festival in 2015 and CBDNA in 2014. While a student at Miami, he played with the Frost Symphonic Winds, Wind Ensemble, Symphony Orchestra, Trombone Choir, and XJB Jazz Band.  As a Stamps Distinguished Ensemble Scholar and member of the Stamps Brass Quintet at the Frost School of Music, Chris studied and performed at the 2015 Atlantic Brass Seminar and shared the stage with Boston Brass at Festival Miami 2015.  During his time with the Stamps Brass Quintet, he premiered several new chamber works by compsers such as D. Scott Stinson and Charles Mason.
Chris has also spent a lot of time teaching music. In summer 2018, he interned with the Learning Community department of the Indianapolis Symphony Orchestra, in which he assisted with the planning and implementation of their musical and educational programs for students of all ages.  Chris has worked on the staff at the Cathedral High School band camp for the past three years, and he spent four years as a 2-on-1 Mentor in the Shalala MusicReach program at the Frost School of Music, in which he taught weekly music lessons to area youth.