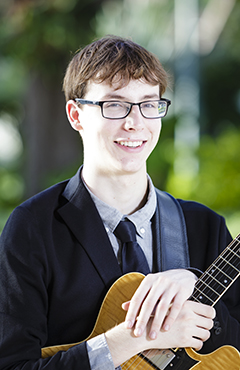 Major: Studio Music and Jazz
Instrument: Guitar
Stamps Ensemble Name: Stamps Jazz Quintet Class of 2021
Tim Watson, guitar, is majoring in Studio Music and Jazz at the University of Miami's Frost School of Music where he is a Stamps Distinguished Ensemble Scholar, Class of 2021. Tim is a member of the award-winning Stamps Jazz Quintet, directed by Chuck Bergeron. He studies jazz guitar privately with John Hart.
Tim is a guitarist and composer from Boston, MA. He is a graduate of New England Conservatory Preparatory School, having studied with John Hart, Ben Monder, and Jamie Stewardson.
Tim's awards include a 2018 National YoungArts Honorable Mention in both Jazz Performance and Jazz Competition, the Adam Gurley Green Composition Award for his piece "Fantasia for Electric Guitar", as well as Outstanding Soloist/Musicianship at the Clark Terry Jazz Festival, the UMASS Amherst Jazz Competition, and Best Section at the 2015 Mingus Competition. Tim has competed in Essentially Ellington at Jazz at Lincoln Center, the Mingus Competition at Manhattan School of Music, and performed abroad in Germany as a member of the Lexington High School Jazz Ensemble.