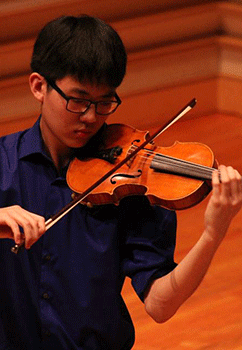 Major: Instrumental Performance
Instrument: Violin
Stamps Ensemble Name: Stamps String Quartet Class of 2022
Soohyun Chae, violin, is majoring in Instrumental Performance at the Frost School of Music located at the University of Miami, where he is a Stamps Distinguished Ensemble Scholar, Class of 2022.
Soohyun Chae, born in Seoul, South Korea and a long-time resident of Lubbock, Texas, began his violin training at the age of six under the tutelage of former TTU violin professor, Kirsten Yon. During his early years as a violinist, he participated at his local Suzuki and Amati programs (STELR). He also participated in the Lubbock Youth Symphony Orchestra (LYSO) and other various local ensemble programs. After many years of study with Dr. Yon, he then went on to study his remaining high school years with TTU violin professor, John Gilbert.
Soohyun has attended various summer music programs including the Texas Tech Band and Orchestra Camp, Bravo, the Pienza Music Festival, and the Castleman Quartet Program. He has also received lessons and masterclasses from numerous distinguished professors, including Sally O'Reilly, Charles Castleman, and Yair Kless. On top of his musical experiences, he has also won numerous state-wide honors.  He has been a member of Texas All-State Orchestra for the past 3 years as well as being selected as an Outstanding Performer at the 2016 Texas State Solo and Ensemble Contest (TSSEC) last year. Only the top 2%-3% of solo performances can earn this distinguished honor.
Soohyun also embarked on an active performing career as a pianist as well. He won first place for all three years he has participated in the piano sonata and sonatina contest hosted by LMTA (Lubbock Music Teachers Association). He also was a semi-finalist in the 9th-10th Grade division in the Texas state piano festival hosted by TMTA (Texas Music Teachers Association) and has participated in both the Juanita-Miller (SMU) and Baylor piano competition. He continues to play the piano as a hobby but has set it aside in order to pursue the violin.
Soohyun currently studies violin under Charles Castleman at the Frost School of Music. He loves science and mathematics and has remained academically competitive in high school, becoming a National Merit Finalist and a Phi-Beta Kappa Scholar. Outside of music, he enjoys watching anime and making soundtrack transcriptions.