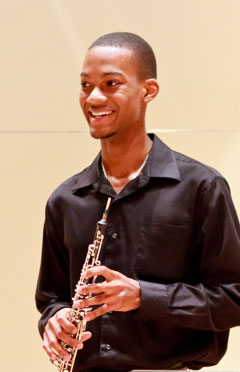 Major: Music Engineering Technology
Instrument: Oboe
Stamps Ensemble Name: Stamps Woodwind Quintet Class of 2015
Profile:
David Taylor, oboe, majored in Music Engineering Technology at the University of Miami Frost School of Music where he was a Stamps Distinguished Ensemble Scholar and a member of the Stamps Woodwind Quintet, Class of 2015, coached by faculty mentor Robert Weiner. He also studied privately with Robert Weiner. He graduated in 2015 from the University of Miami Frost School of Music.  David Taylor performed in the Frost Symphony Orchestra and Frost Wind Ensemble and other chamber groups at the Frost School of Music.
In its debut year, the Stamps Woodwind Quintet performed at numerous venues in South Florida, including Fairchild Tropical Botanical Garden, the South Miami-Dade Cultural Arts Center, the Deering Estate as part of the SoBay Festival of the Arts, ArtSouth in Homestead, and for students in the Miami-Dade Public Schools. They also performed at Festival Miami in 2011, sharing the program with internationally acclaimed quintet Imani Winds. In summer 2012 the Stamps Woodwind Quintet attended the Imani Festival for an extensive period of coaching and performing in New York City. They have also performed for many University of Miami events including the Frost School's annual Winter Wonderful holiday dinner gala.
The National Band Association named David Taylor an Outstanding Musician. Originally from Miramar, Florida, his solo work with the Florida Bandmasters Association Solo & Ensemble was rated "superior" three times at both the country and state level. David Taylor was a member of the Florida Youth Orchestra for five years, in which time he traveled to play as part of the celebration of the 400th anniversary of Jamestown. The following year, Florida Youth Orchestra chose him to perform a solo in their yearly Spotlight Concert. He was invited to play in the All-County High School Honors Band, All-Country Gold Orchestra and the annual Young Artists Concert at Stetson University.
In high school David Taylor was a member of the American Heritage High School concert band, marching band, and symphony orchestra. He was the principal oboist during his entire tenure with American Heritage High School Concert Band, and was also chosen to play in the pit orchestra in the American Heritage Fine Arts' production of The King and I.