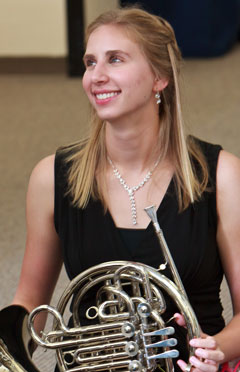 Major: Instrumental Performance
Instrument: French horn
Stamps Ensemble Name: Stamps Woodwind Quintet Class of 2015
Profile:
Larysa Pavelek, French horn, majored in Instrumental Performance at the University of Miami Frost School of Music where she was a Stamps Distinguished Ensemble Scholar and a member of the Stamps Woodwind Quintet, Class of 2015, coached by faculty mentor Robert Weiner. She studied horn privately with Richard Todd. She was awarded a Bachelor of Music degree from the University of Miami Frost School of Music in 2015. Pavelek also performed in the Frost Symphony Orchestra and other major ensembles at the Frost School. She is currently pursuing a Master of Music degree at the Frost School of Music and is an advisor for the currently enrolled Stamps Distinguished Ensembles.
As a member of, the Stamps Woodwind Quintet, she performed at numerous venues in South Florida, including Fairchild Tropical Botanical Garden, the South Miami-Dade Cultural Arts Center, and for students in the Miami-Dade Public Schools. The Stamps Woodwind Quintet also performed at Festival Miami in 2011, sharing the program with internationally acclaimed quintet Imani Winds and the following summer attended the Imani Festival for an extensive period of coaching and performing in New York City.
Larysa Pavelek was born and raised in Salem, Oregon. She graduated as valedictorian of West Salem High School in June 2011. She is a member of the National Honor Society and was selected as a delegate to represent the state of Oregon on the National Youth Leadership Council for the National Electric Co-op Association Conference in Washington D.C.and Orlando, Florida in 2010-2011.
She has played the piano for 13 years and the French horn for 8 years. She was a member of the 2010 and 2011 Oregon State Champion Wind Ensembles. In high school, she was the Drum Major for two years of her award winning Marching Band. Throughout high school, she participated in other music ensembles such as Symphony, Jazz Band, Jazz Choir, Concert Choir, Pit Orchestra, and Pep Band and was a piano accompanist in the Choir program as well.
Outside of her music activities, she enjoys hiking, reading, running, watching sporting events, and spending time with friends and family..