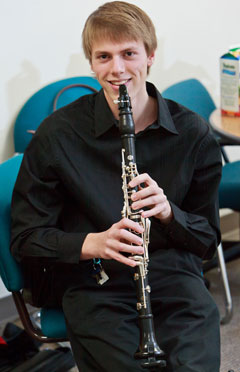 Major: Instrumental Performance
Instrument: Clarinet
Stamps Ensemble Name: Stamps Woodwind Quintet Class of 2015
Profile:
Spencer Stromquist, clarinet, majored in Instrumental Performance at the University of Miami Frost School of Music where he was a Stamps Distinguished Ensemble Scholar and a member of the Stamps Woodwind Quintet, Class of 2015, coached by faculty mentor Robert Weiner. He studied privately with Margaret Donaghue and participated in master classes with members of The Cleveland Orchestra. Spencer Stromquist performed in the Frost Wind Ensemble and other major ensembles at Frost. He graduated in 2015 with a Bachelor of Music degree from the University of Miami Frost School of Music.
As a member of the Stamps Woodwind Quintet, he performed at numerous venues in South Florida, including Fairchild Tropical Botanical Garden, the South Miami-Dade Cultural Arts Center, and for students in the Miami-Dade Public Schools. The Stamps Woodwind Quintet also performed at Festival Miami in 2011, sharing the program with internationally acclaimed quintet Imani Winds.
Spencer Stromquist has been playing music since a very young age, first at the piano, then switching to the clarinet at the age of 13. He attended H.B. Plant High School in Tampa, Florida, where he studied under Robert Schoos. While at H.B. Plant High School, he marched in the Plant's Golden Panter Regiment and was clarinet section leader for three of his four years in the and the band captain for his senior year. Spencer made the Florida All-State Band in his junior and senior years and made principal chairs in the USF Festival of Winds and the University of Miami's South Florida Music Festival. Throughout High School, he participated in Tampa's Patel Conservatory Youth Orchestra under the direction of Dr. William Weidrich for four years, serving as principal clarinet for two years. In 2011, he was also principal clarinet in the Honor Band of America in Indianapolis.