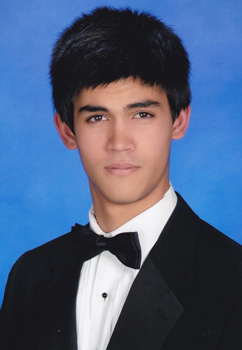 Major: Instrumental Performance
Instrument: Violin
Stamps Ensemble Name: Stamps String Quartet Class of 2018
Profile:
Jacques Gadway, violin, is majoring in Instrumental Performance at the University of Miami Frost School of Music where he is a Stamps Music Scholar and a member of the Stamps String Quintet, Class of 2018, coached by Professor Ross Harbaugh. He studies privately with Frost faculty violin artist Scott Flavin.
Jacques Gadway started violin at age four while living in Southern Illinois. He later moved to Homestead, Florida with his family and began playing in school and youth orchestras throughout the region. Gadway graduated from Coral Reef Senior High in Miami, Florida where he was the concertmaster of both the Chamber and Symphony Orchestras under the batons of Alan Hudson and Dr. Lee Stone. He was also concertmaster of the String Orchestra of the Greater Miami Youth Symphony, a member of the Young Musicians' Orchestra of Coral Gables Congregational Church, and concertmaster of Miami Strings Project.  Under the guidance of his former violin teacher Miriam Stern, he earned the opportunity to play with other young musicians from around the state in All-State Orchestras, which he attended annually beginning in the seventh grade.
In 11th grade, he was selected as concertmaster of the Florida All-State 11th and 12th Grade Symphony Orchestra under the direction of Dr. William LaRue Jones.  In addition, he was awarded full scholarships to summer programs such as the Young Musicians Camp at the University of Miami; the Eastern Music Festival in Greensboro, North Carolina; and the four-week National Symphony Orchestra Summer Music Institute (NSO-SMI) at the Kennedy Center for Performing Arts in Washington, D.C.  His string quartet at the NSO-SMI performed for a congressional reception in the Kennedy Caucus Room on Capitol Hill.
In his free time, Jacques likes to improvise on both violin and piano, play basketball and tennis with his friends and brothers, and compose music.
The Stamps Family Charitable Foundation and the Frost School of Music selected Jacques Gadway for the prestigious Stamps String Quartet program based on his academic and musical excellence. The quartet receives full undergraduate scholarships, free tuition, plus room and board for all four years of enrollment at Frost. They rehearse and perform classic and contemporary string quartet repertoire throughout the year, and explore a variety of cross genre pieces and new works created especially for the ensemble.  They also participate in private coaching sessions with string masters, engage in leadership training, and perform together at festivals and workshops during the summer months.