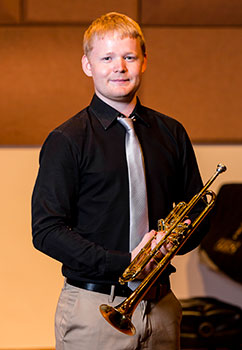 Major: Instrumental Performance
Instrument: Trumpet
Stamps Ensemble Name: Stamps Brass Quintet
Profile:
Lasse Bjerknaes-Jacobsen, trumpet, majored in Instrumental Performance at the University of Miami Frost School of Music where he was a Stamps Distinguished Ensemble Scholar and a member of the Stamps Brass Quintet, Class of 2016, coached by faculty mentor Sam Pilafian. He studied privately with Craig Morris. Lasse Bjerknaes-Jacobsen also performed in the Frost Wind Ensemble and other major ensembles.
Lasse Bjerknaes-Jacobsen has performed in both the United States and his hometown, Oslo, Norway. He won the Oslo and Akershus championship for soloists four times and placed first in the Norwegian Youth Music Championship.
He has played as a soloist at the Barratt Due Institute of Music, the Oslo Jazz Festival and the Bergen International Festival. He has been a soloist in Sweden, England, Germany and China and with ensembles/orchestras such as Ytre Suløens jazz ensemble, Nordic Brass Ensemble (2 times) and His Majesty the King's Guard (4 times).
He has performed in master classes in Sweden, England, Germany and China for Ole Edvard Antonsen, Hans Ganch, Reinhold Friedrich, Per Ivarsson, Florian Klinger, Craig Morris, Roman Rindberger, David Staff, James Watson, Paul Coch, Mike Hesse, David Baldwin, Rod Franks, Dennis A.Noday, Joachim Urban, David F. Strunck, Paul Spjuth, Frøydis Ree Wekre, Henning Kraggerud, Fredrik Fors, Alf Richard Kraggerud, Knut Riisnæs, Kåre Nymark Jr.
Bjerknaes-Jacobsen was a member of the Norwegian National Youth Orchestra in 2011, Großes Europäisches Blechbläserensemble in 2010 and Die Deutsch-Skandinavische Jugend-Philharmonie (in Berlin, Germany). He performed previously with the Norwegian Youth Symphonic Orchestra (NUSO), the Norwegian Children Symphonic Orchestra (NBSO), and others.