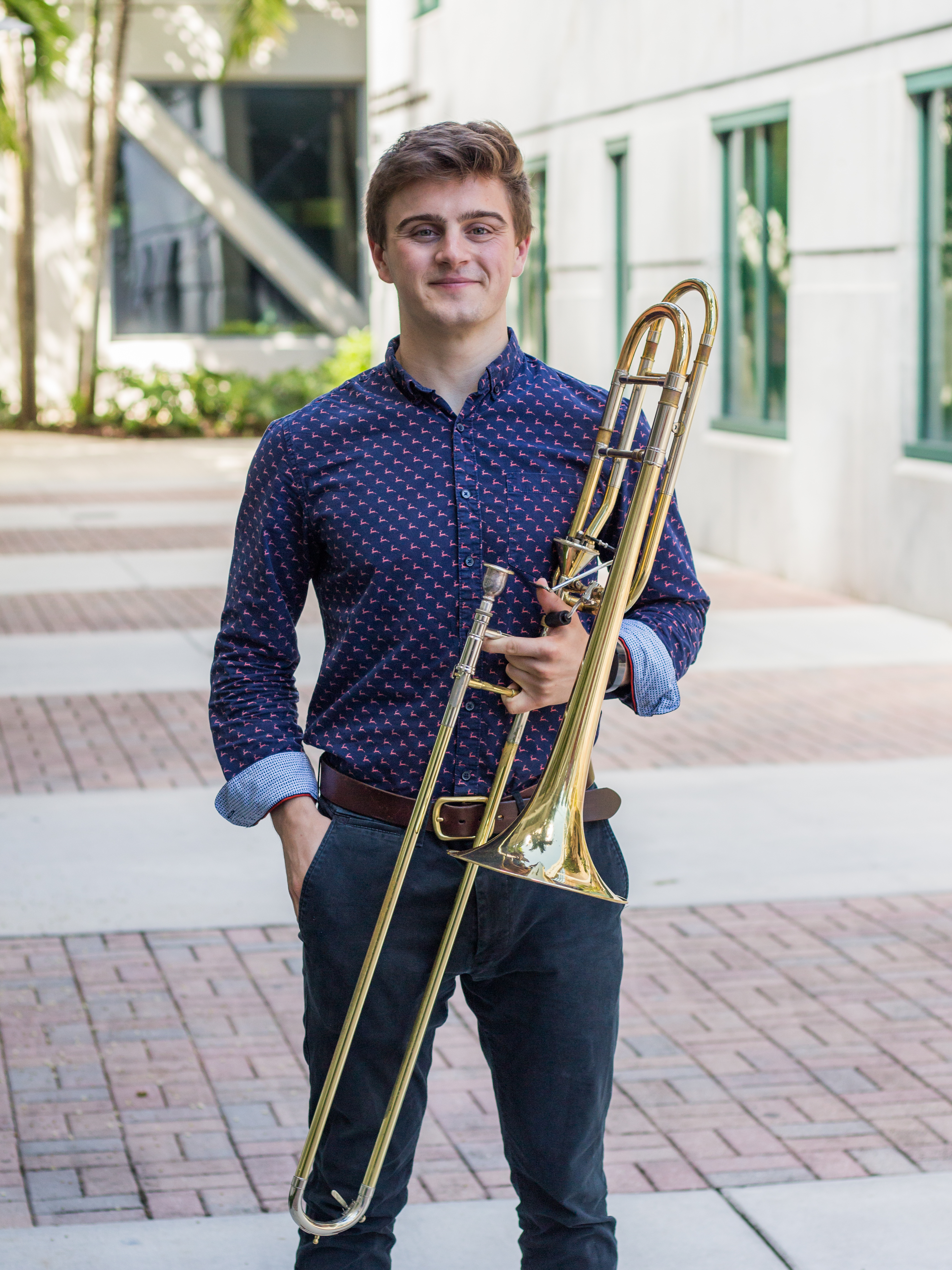 Cameron Daly is a trombonist from Albany, California. He has been playing trombone since the fourth grade. Cameron studied privately since a young age with Mara Fox and Craig McAmis. Cameron has performed internationally as a member of the Oakland Symphony Youth Orchestra and the Berkeley Jazz School Studio Band.
Currently, he is studying Trombone Performance at the University of Miami Frost School of Music as a Stamps Scholar under Professor Tim Conner. At Frost, he is also a member of the Stamps Brass Quintet, the Frost Wind Ensemble, and the Frost Trombone Choir.
While he maintains a firm belief that all beautiful art originates from mastery of fundamentals and vigorous study of tradition, Cameron is always looking for new avenues by which to expand the trombone and brass chamber music repertoire. Cameron's goal is to become a professional trombone player in an orchestra.
---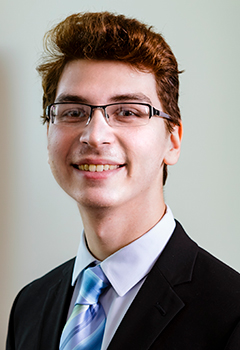 Cameron Zhen, a trumpet player from Coral Springs, Florida, is a member of the Stamps Brass Quintet in the Frost School of Music at the University of Miami. At age 9, Zhen started playing trumpet, which developed into a passion in high school that convinced him to pursue music as a career. As a student of J.P. Taravella High School, Cameron studied under Ral Estevens, who also attended the University of Miami, albeit in the 1980s. Throughout all four years of high school, Zhen received only the highest ratings, superiors, at all evaluations such as Solo and Ensemble and concert band festivals. He participated in the Broward All-County Band all four years as well. In his junior and senior years of high school, Cameron participated in the Florida All-State ensembles as a member of the Symphonic Band and the Symphonic Orchestra. He also participated in the Miami's New World Symphony's Side-By-Side Program in his last 2 years of high school. In summer 2017, between his senior year and starting college, Zhen participated in the Boston University Tanglewood Institute's Young Artist Orchestra and studied under principal of the Metropolitan Opera, David Krauss. Zhen currently studies with former principal trumpet of the Chicago Symphony Orchestra and current trumpet professor at University of Miami, Craig Morris.
---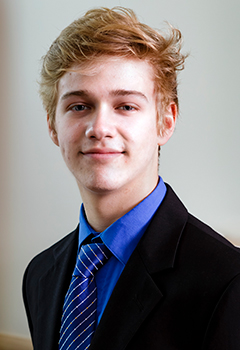 From Glen St. Mary, FL, Logan Butler (b. 1998) is a trumpet player at the Frost School of Music in the University of Miami studying music performance in the Stamps Brass Quintet program. Butler began playing the trumpet in the 6th grade and received recognition for his natural abilities. He later went on to Attend Douglas Anderson School of the Arts in Jacksonville, FL for high school. Butler took intensive music classes that focused on building musical fundamentals and received foundational instruction from Dr. Ken Williams. Butler played with the symphonic band his sophomore year while studying under Jim Daniel and became the principal player for the Wind Symphony his junior year. He then began studying under Forrest Sonntag and attended the College Band Directors National Association in Charleston, GA with the Wind Symphony. While playing principal in the DA Wind Symphony he was also invited the attend the Midwest Clinic in Chicago, IL.  Butler also performed in the top jazz band at Douglas Anderson, playing fourth his sophomore year, then lead junior and senior year. While playing lead, Butler attended the Savannah Jazz Festival, placing third. Butler was also accepted to perform in the Jazz Education Network Conference.
Throughout his high school career Butler played in the Florida All-state Band twice, once 7th chair, and once 2ndchair. His senior year Butler played principal trumpet in the Jacksonville Symphony Youth Orchestra. In high school Butler attended summer music programs including the Florida State Summer Band Camp where he played 2nd in the top band and the FSU Honors Chamber Winds program, where he played Principal in the top orchestra and performed in many small ensembles such as a brass quintet and a small Wind Ensemble. In summer 2015, Butler applied for a summer scholarship program through Douglas Anderson and through their generosity, attended the Eastman School of Music Summer Trumpet Institute in Rochester, NY. Under professors Doug Prosser and Wes Nance, Butler performed principal in the trumpet ensemble.
Butler is a student in the Frost School of Music at the University of Miami studying Trumpet performance and Computer Science. He is an active member of the Stamps Brass Quintet and currently studies under professor Craig Morris.
---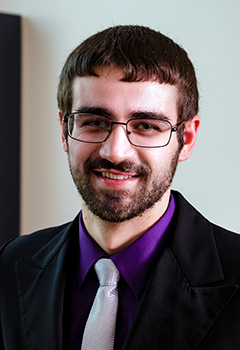 Peter McFarland is a classically trained horn player from Yorktown, Indiana. He is a member of the Stamps Brass Quintet and is a Second-year Horn Performance major at the University of Miami, Frost School of Music, studying with Professor Richard Todd. At the Frost School of Music, McFarland has performed as a principal and sectional player with the Frost Symphonic Winds, Frost Wind Ensemble, and Frost Symphony Orchestra. During the summer of 2017, McFarland traveled with the Stamps Brass Quintet to Eastern Music Festival in Greensboro, North Carolina where the quintet served as a chamber group in residence, performing regularly for outreach events and formal recitals. While in Eastern Music Festival, he also performed Gustav Mahler's Symphony No. 1 in D Major with the Eastern Faculty Orchestra as well as Sergei Prokofiev's Romeo and Juliet, Suite A and Nikolai Rimsky-Korsakoff's Scheherazade as principal in the festival's student orchestras: the Eastern Symphony Orchestra and the Guilford Symphony Orchestra. As a high school student, McFarland was a regular member of the Indiana All-State Ensembles, and he performed 3 times with the All-State Honor Band, sitting principal twice, and 2 times with the All-State Orchestra, sitting principal once.  He has had a unique upbringing as the son of missionary parents in Papua New Guinea where he was taught horn by Ms. Marlene Schutter and his father, Mr. Bruce McFarland. When his family moved to Indiana during his sophomore year of high school, McFarland grew as a musician under the tutelage of Mr. John Higgins and Professor Gene Berger of Ball State University. 
---
Stefan Hopman, a tuba player from Sint Anthonis, Netherlands, is a member of the Stamps Brass Quintet in the Frost School of Music at the University of Miami. As a high school student, Stefan attended the Interlochen Arts Academy where he performed with the wind ensemble and orchestra. During the Summer of 2016, Stefan performed with the World Youth Orchestra. Stefan is an avid solo musician and has been a finalist in the International Euphonium and Tuba young artist solo competition, a semi-finalist in the International Tuba and Euphonium Conference Artist solo competition, and will be competing this year in the semi-finals artist division of The Leonard Falcone International Euphonium and Tuba Festival. Also, this year Stefan will be attending the Eastern Music Festival in Greensboro, North Carolina. Incredibly grateful to each of his teachers, Stefan has studied with Thomas Riccobono, Matthew Schlomer, Lucas Davey, and Calvin Jenkins; and is currently studying with Dr. Aaron Tindall. Outside of playing the tuba, Stefan enjoys building websites, spending time with family and friends, and working out at the gym.